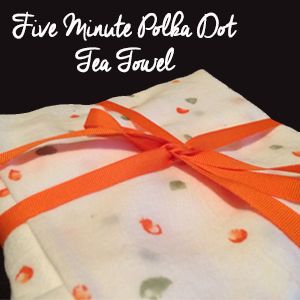 Every now and then I find myself needing a quick little gift. I love baking goodies for my friends and sometimes give the goodies wrapped up in a tea towel and some good ol' baker's twine. I thought it was a bit boring to give a plain white towel and then one day it dawned on me–years before I had used q-tips to hand stamp polka dots onto a white towel using fabric paint. It is a child's craft, but provides a quick gift and an extra little something for little gifts. Heck, this craft is so cute it can stand alone. The steps are so easy that really anyone can get in on this craft.
1. Collect your supplies:
Tea towel(s) (I used a flour sack tea towel. They work great for stamping.)
Fabric paint (DecoArt SoSoft Fabric Paint was a total win)
Q-tips
Newspaper or something else to lay beneath your tea towel, so you don't wreck  your table.
Optional: Embellishments! Pom poms or ribbons would look cute on the edging.
2. Shake the bottle of fabric paint and get some of the paint in the cap.
3. Dip the q-tip into the cap getting just enough paint on it.
4. Stamp away on the tea towel.
5. Let it dry. As long as you didn't soak through the towel, it should not take long to dry. I usually aim a fan onto my towels and that dries them up pretty quickly;
6. Enjoy the finished product! Told you it was easy. 🙂
If you want a visual guide check out below!

Make sure to follow Eyeliner & Erasers on Facebook and hope to see y'all around!